Help the InnerCity Mission reach its goal of getting 100,000 underprivileged children in school with the resources they need to receive the education they deserve. Sponsor a child and change the future of Africa.
Over the last years, the InnerCity Mission has made undeniable efforts to provide a sustainable education for all children living in the most poverty-stricken regions around the world, and specifically in Africa. When a family endures great suffering and lacks so many resources, it is often the child's needs that get put to the side and ignored. The InnerCity Mission, in partnership with the Chris Oyakhilome Foundation, believes the greatest need for children is to receive a proper education.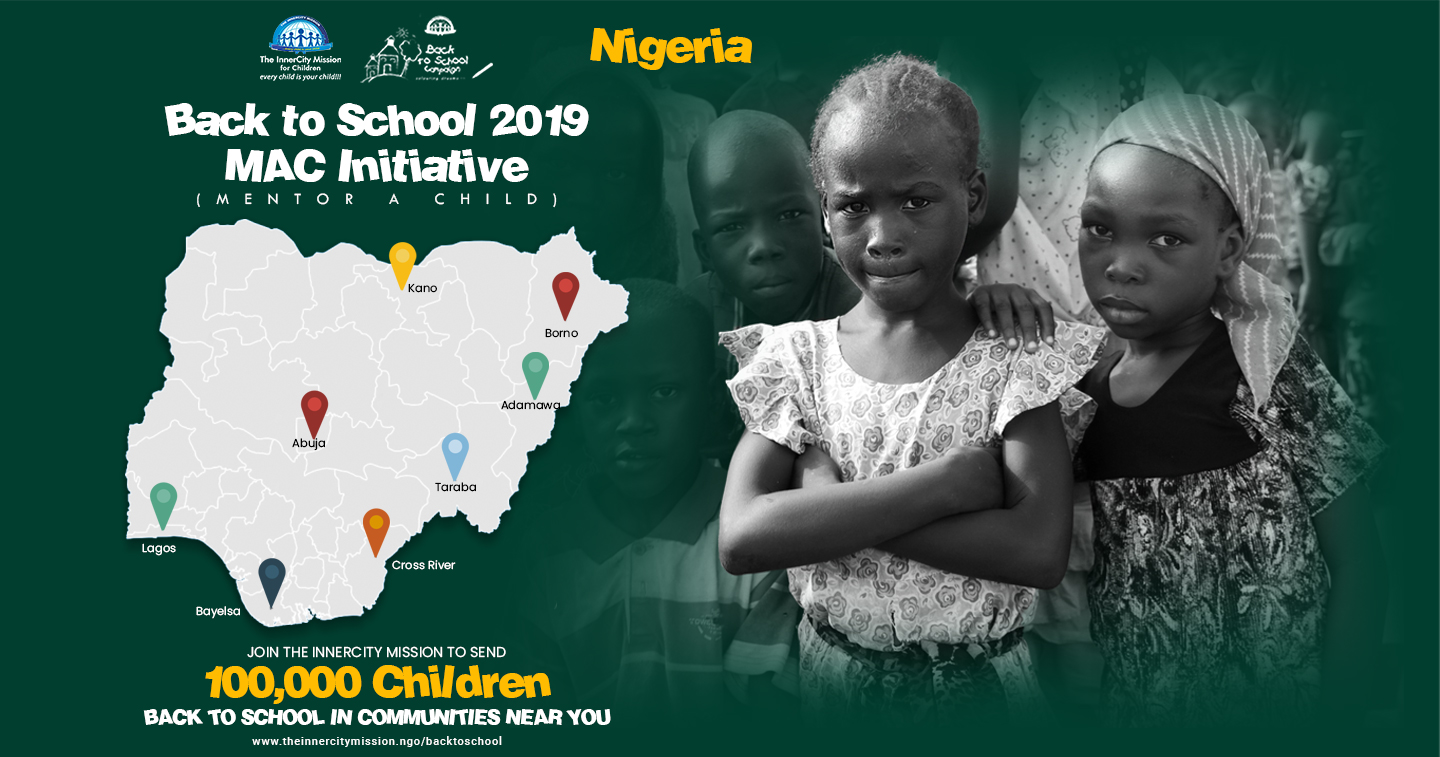 Mentor-A-Child (MAC)
According to UNICEF, 40% of Nigerian children aged 6-11 years old are not attending a school or receiving any education at all. The InnerCity Mission has focused their work through a new initiative this year called "Mentor-A-Child" (MAC) Initiative. This 2019 Back to School Campaign kicked off in May and has already gained incredible support. With Mentor-A-Child, InnerCity Mission has set a global goal of providing a year of education to 100,000 children who are less fortunate and would not be able to attend school otherwise.
As the state of poverty increases in any given community, school drop-out amongst students also increases. Children take on the responsibility of working and fighting for their means rather than ever being given the opportunity to succeed beyond mere survival. This majorly affects the intellectual and social development of every child. The future of a family, a generation, a community lies in the youth of today. By investing in a child's education, you are investing in a brighter future for all.
The Mentor-A-Child Initiative hopes to reduce the statistics of children not attending school in Nigeria and around the world. With your help, the InnerCity Mission can reach its goal of providing sustainable education for 100,000 children throughout Nigeria and South Sudan. With your generous contribution, children not only receive a proper education but are set up with all the tools they'll need to succeed. Every child sponsored through MAC initiative receives school uniforms, a school bag, shoes, and school books. You can give in this simple and interactive way to supply them with the resources they need in order to receive the education they deserve.
The Goal
The goal for this campaign is to support 100,000 students to attend school and that cannot be done without you! Consider the great investment you are making for someone else, as they are faced with an opportunity to completely change the trajectory of their own life.
To learn more about the efforts of the Chris Oyakhilome Foundation, visit their website here.
If it is on your heart to donate towards the sponsorship of child education through the MAC initiative, you can read more information and donate to the cause here.